Reserve your luggage locker at your destination and leave your luggage safely.
Enjoy your stay without worrying!

Video Survillance 24h to keep your things safely.

Available 24h a day. 365 days a year

You can book it online safely and without queues.

Different sizes to adapt to your necessities.
Our luggage lockers are close to the most touristic spots!
We have lockers in the most touristic points of several cities. Visit the city comfortably without carrying your luggage.
Locker4rent rents per locker, not per suitcase.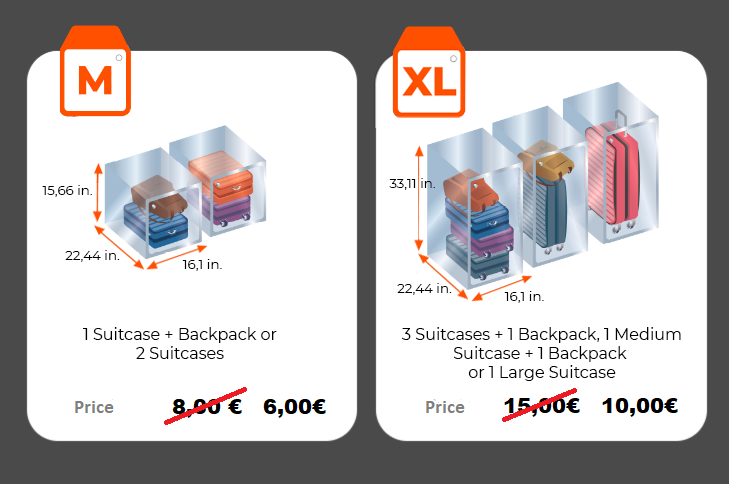 Book your luggage storage in an easy, fast and secure way!
Store your luggage safely and securely or your purchases in our lockers and continue visiting the city, going to the theater, cinema or having a quiet drink.
Don't waste time taking care of your luggage. We do it for you!
100% secure online booking and payment
Choose your locker's duration.
Choose the size of the locker you want according to your luggage
Access with your security code that we send you, save your stuff and don't worry about it.
Free Wifi in all of our locals.
Complete availability to open and close the locker in all the times you need it.
Our lockers are close to the most touristic points.
You can rent your luggage locker by the day.
or by hourly time slots
If you want to rent a baggage locker by time slot, you can do so.
directly in our stores.
If you need more information, please contact us!
Frequently asked questions about lockers reservations
Advantages of storing your suitcases in our lockers
Take advantage of the lockers at Locker4Rent. We offer a full lockers service in any city of Spain. With Locker4Rent you can store your suitcases and personal belongings with the greatest security. Enjoy your trip without worrying about carrying your suitcases. Our lockers are strategically located so that the process is comfortable and simple for you.
¿How long can I book the locker?
You can hire a locker booking's service a period between, at least ,1 day or ,at most, 90 calendar days. If you want to book longer period of times, contact to Locker4rent sending an email to info@locker4rent.es o calling to 611 03 31 48
Are the lockers safe?
Yes, absolutely. The Locker4rent's locals are protected by Securitas Direct. There are Video Surveillance Cameras and alert systems connected to the Surveillance Center and the Police during 24h a day in all the locals.
Can I cancel the booking?
Contracted services can be canceled up to 24 hours before the start of said service with a 100% refund of the amount.
It may also be canceled in other cases, for example:
If you cancel 12 hours before the start of the service, 70% of the amount will be refunded.
If canceled 6 hours before the service, 50% of the amount will be refunded.
If canceled 3 hours before the service, 30% of the amount will be refunded
Can I book it online?
Yes, you can make the reservation through our webpage. The booking's process is easy and fast. You can do it from your computer, phone or tablet.
Opinions about our luggage storage service:
Estuvimos ayer en el de que justa cerca de la puerta del sol. Un servicio muy bien pensado. Hemos reservamos para 5 h por la mañana. Genial. Hoy hemos reservado para todo el día mañana.
Jose Luis Rodríguez
15/04/2023
Estupenda iniciativa para ir por el centro sin bolsas ni mochilas. Buen servicio, muy cómodo y fácil de usar.
Gran idea, me ha facilitado el disfrutar de la ciudad sin maletas. 👍🏻
Gente seria y profesional.Buena comunicación.